Zookki GoPro Accessories Kit $7.48 – Amazon
ZookkiDirect via Amazon has 56% off on Zookki GoPro Accessories Kit [amazon.com].
Code 6CLTKO53 brings the price down to $7.48, about $9.5 off. Dirt cheap for a Gopro kit.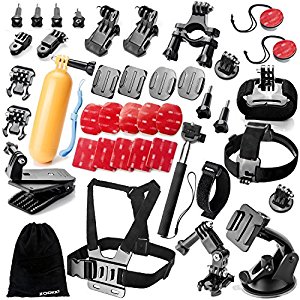 Read recent 1 star reviews before buying. Don't just look at the overall stars. I wouldn't trust a $400 GoPro to this based on the reviews even though it is an incredible price.
---
I calculate of these kits. Which is better between 40 items $7.48 and 31 items $6.02? This is another deals I saw $6.02 for 31 items.
---
how many times is this going to be posted??
---
Dose this fit other cameras?
---
Quote from Unk : Dose this fit other cameras? I bought many kits like this. Is also can fit others, but I think if your camera has the same mounting system as GOPRO cameras, then it fits well. But you can try it
---
Wow, cool, thanks for the code.
---